In theory, part of a journalist's responsibility is to center their community in their reporting. But in practice, this isn't always the case.
At the Online News Association conference, Lynn Walsh, assistant director of Trusting News, outlined a recurring theme for community engagement: how journalists can not only have a relationship with the community but also represent their community in a way that makes them feel represented and respected.
A 2019 survey conducted by Pew Research Center showed 21% of Americans have spoken with or have had interviews with a journalist.
"That percentage of people who have spoken or have been interviewed by a journalist goes down the less white they are, the less educated they are, the less money they make and the younger they are," Walsh said in reference to the survey.
Tim Wolff, vice president of TV and digital publishing innovation at Futuri Media, explained even something like location affects the editorial decision perspective. Editors' news decisions were affected by where where they lived, he pointed out.
"We tend to follow the same groups, and so the stories that affect us. If we see, maybe, 10 cars broken into in a community where we live, we cover it. If 10 cars are broken into in the next county, we don't even know about it, right?" Wolff said.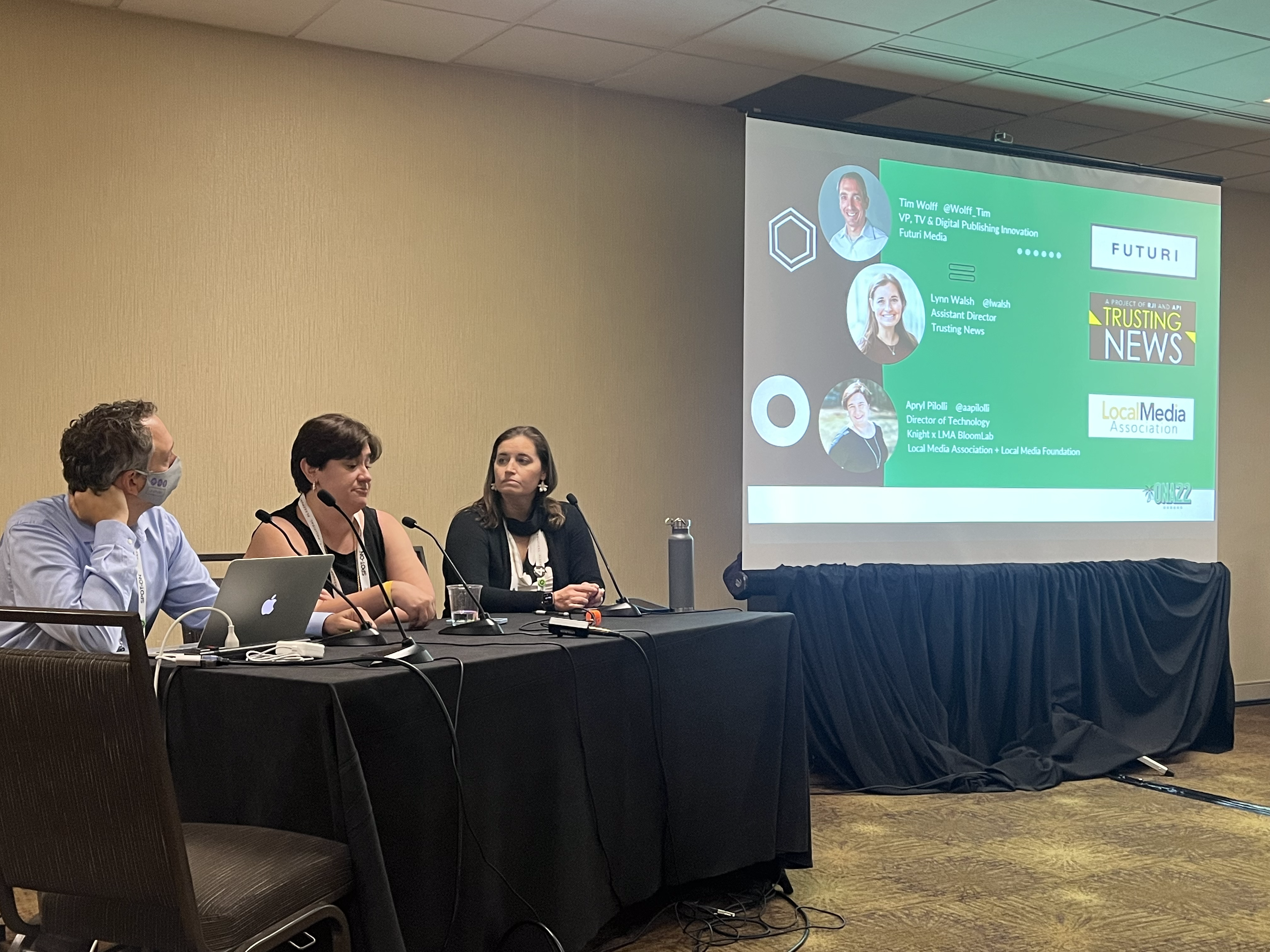 According to Apryl Pilolli, director of technology at Knight x LMA BloomLab, if people have one perspective, they tend to lean towards that perspective above all else.
"If you come from one education level — one sector of the community — you only see things through your lens," Pilolli said.
The Lab, launched in 2019 and funded by the Knight Foundation for $3.2 million, aims to support underrepresented media, particularly Black locally owned and operated media.
Since its inception, the Lab was able to drive digital revenue, audience growth and engagement for several Black publishers, Pilloli said.
"We work with these media companies to help them transform digitally," Pilolli said. "They have a really strong voice, but they're telling stories that no one else is telling."
To Pilolli, it is important to have diverse voices. Being with the publishers opened her eyes to stories she never would have seen previously. Pilolli is autistic, but was not diagnosed until she was 40 years old. It was the TV show "The Good Doctor" that made her feel seen.
"It's really when you start to see the world more reflective of you that you can better understand — you don't feel like you need to hide who you are," Pilolli said.
LMA has several different initiatives, including News Is Out, a collaborative of LGBTQ+ publishers.
The initiative conducted a survey that was answered by more than 1,100 LGBTQ+ readers, and the results showed that 50% of the survey respondents did not feel represented. Only 30% of the respondents felt partially represented in the media.
Walsh emphasized trust as the main factor determining a community's relationship with news outlets and organizations.
"We have to be willing to think about journalism differently and work to think about our communities and involve them in the process," Walsh said.
Trusting News developed a community member interview guide to lead journalists through an interview with people who are not currently engaged with the news because they have a low level of trust in the media.
Walsh said several newsrooms have already used this guide to target communities they want to serve. She found 86% of the respondents felt a sense of trust building with journalists after they utilized the guide.
"We encourage [the journalists] not to speak to a church leader who maybe does get interviewed a lot, but to talk to sort of regular people, moms, dads — people working at the grocery store," Walsh said.
Wolff also brought up the importance of data as a tool to better connect journalists with their audiences. Data get journalists beyond the individual people in their circle — it can give them a comprehensive understanding of their audience, Wolff said.
TopicPulse, an artificial intelligence tool developed by FuturiMedia, brings in data across Facebook, Twitter and Instagram, along with information from 200,000 publishers, and then parses that data to tell journalists what people are engaging with.
"We have these tools, data and social to be able to [parse data] and help guide us when do in our newsrooms because we can't do everything with people," Wolff said.
The panelists all emphasized the importance of newsrooms understanding their communities to better serve them.
"We believe journalists can make more informed decisions about what it means to serve the public if we understand the people we aim to serve," Walsh said.