"We don't say, we posted somebody's profile or published it on the wall; we always say we honor them on the wall," said Ruth Nasrullah, treasurer of the COVID-19 Wall of Memories and The COVID-19 Observer editor. "So, that's the phrase that we'll always use."
She and her husband, Mohammed Nasrullah decided to honor and remember their legacies virtually through the COVID-19 Wall of Memories: a 501(c)3 digital project that the U.S. Library of Congress recently selected to join their coronavirus web archives to live on — preserving their webpages, becoming a part of the public memory.
While some media outlets are starting to slowly drift away from covering one of the most consequential news stories of a generation — the COVID-19 Wall of Memories is still trying to count victims amid a sudden surge to escape masking mandates and lockdown curfews nationwide.
Al Tompkins, a senior faculty member at Poynter and author of "Covering COVID-19" daily briefing, says that journalists shouldn't stray from telling authentic stories about human suffering and loss, especially for the "long-haulers," who survived the coronavirus and are now stuck with adverse health-related side effects that linger long after contracting the virus.
"It's natural for us to want to put all this behind us and say it's over," Tompkins told the ONA21 Student Newsroom. "So, I understand the urge to move on, but not so fast, particularly not in the obituary column."
With The New York Times and The Washington Post no longer publishing the names of those lost in their featured print editions, the Nasrullahs haven't stopped humanizing the staggering figures — 601,730 deceased and counting.
More than 6,200 stories of loved ones appear on the COVID-19 Wall of Memories, but Ruth Nasrullah remembers getting "very emotional" after receiving their first online submission just shortly after their website officially launched on Jan. 4, 2021.
"These are real people who lost real people in a real pandemic, like this is not a joke or theoretical," she recalled. "And that kind of gave me palpitations a little bit, just to realize what we had gotten ourselves into."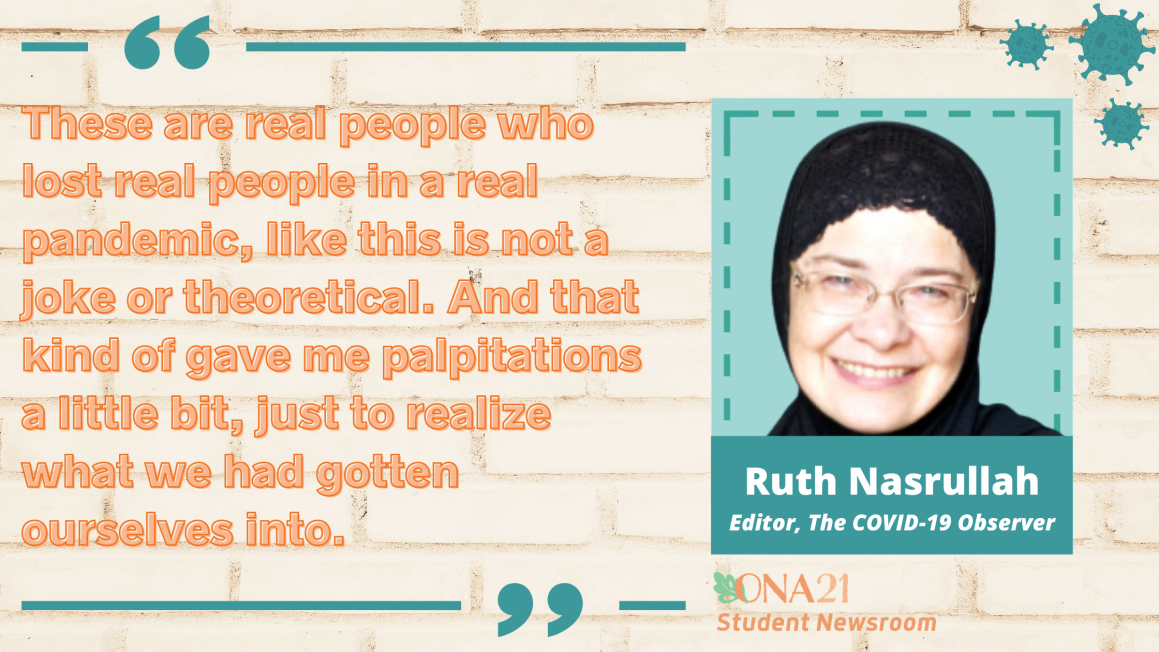 Not all of the honorees are entries from friends or families. Some are sourced from obituaries that are posted in print or online newspapers. Excerpting a few lines and providing an outbound link to the original publisher, the Nasrullahs' "biggest dread" is for a family of a loved-one to come along — all the while asking why they took the information from the web.
While the nonprofit is fully-funded, the Nasrullahs are still self-aware that they're "pulling from that world where people are making money" off obituaries but say that don't desire to "feel like we're cheating funeral homes' opportunity to make money."
Mohammed Nasrullah, the founder of the COVID-19 Wall of Memories, says their service is open to everyone.
"We really encourage families and people who have lost their loved ones to use this project to remember their loved ones to honor them," Nasrullah said.
If the project wasn't able to pull from preexisting obituaries published by news media outlets, Nasrullah admitted "we would have far fewer than we do."
What's different now from when obituaries first started appearing in colonial newspapers in the 1800s is the democratization of the digital medium.
Dr. Janice Hume, a professor and department chair at the University of Georgia's Grady College of Journalism Mass Communication, believes obituaries have been remarkably similar from the beginning, but the main difference between print and digital ones is essentially how anyone can comment and even participate in the process of grieving.
"The difference to me, in the online digital world, is that so many more people can participate in the process of grieving," Hume told the ONA21 Student Newsroom.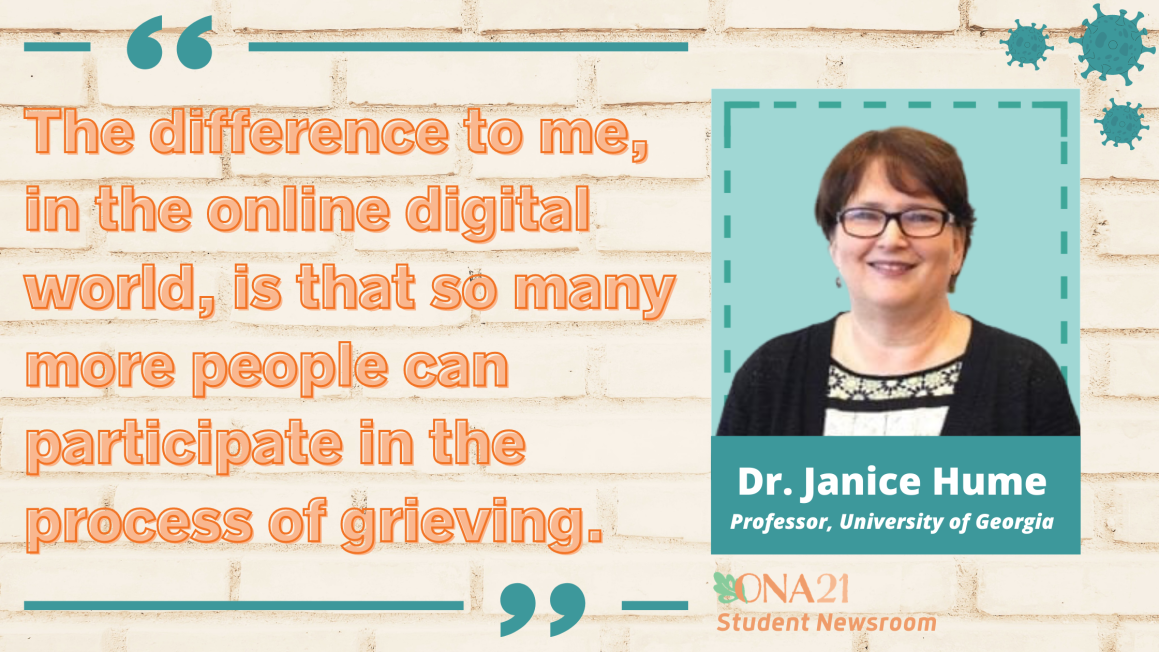 The author of Obituaries in American Culture, suggests readers are getting a "richer picture" of someone's life from commenting family, friends, even strangers — and "more than just what a journalist thinks is important."
While the COVID pandemic changed in-person wakes and funerals, it hasn't transformed obituaries much at all.
"We're at a point where we've been thinking a lot about death for the last year and a half, we've lost a lot of people," Hume said. "And because we couldn't mourn in a traditional way, those online and regular obits became really important."
Admittedly, obituaries have always been important — particularly targeting a certain demographic: an aging audience. And "the older you get, the more important they seem," Poynter's Tompkins said.
Over the last decade, Tompkins believes that corporate buyouts and layoffs have lead to veteran obituary writers leaving the profession behind. In some instances, editorial decisions are being made by newsrooms that are "not prone to seeing the values of obituaries in the way that more senior people might be."
Hume suggests that the industry could redefine digital obituaries in the aftermath of the coronavirus pandemic.
"Newspapers would probably do well to figure out how to monetize and use some of the digital tools that we have to make them better," Hume said.
Aside from advancing the aesthetic and functional applications of obituaries, Tompkins believes journalists "probably need to rethink" writing obituaries — constructing a "new architecture of telling stories that attract audiences."
In his opinion, obituaries should "explore the quirky, truthful nature of people's lives" — instead of "pretty dry, not very useful and, usually, over laudatory."
Newsrooms also have an opportunity to reconsider the equity-related element of obituaries.
For Hume, obituaries symbolize "how we value the life of an individual American" and yet they have historically "always skewed toward the dominant culture" — just like predominantly white-led newsrooms.
Despite growing efforts to expand access to computers, internet and reliable broadband throughout underserved communities, there's still a divide and plenty of hurdles for diverse faces to appear in digital media — even in obituaries, according to critics.
"I think one of the most important ethical considerations for newspapers and obituaries is not just what in who they include, but what in who they leave out," Hume said. "Being more inclusive should be a goal for all parts of news content, and obituaries are an important part of that."
To share the story of a relative, friend or family member with the COVID-19 Wall of Memories visit here.
ONA 21: "Resurrecting the Obituary: From Journalism Staple to Digital Product," an ONA21 session from 12-12:45 p.m. on Thursday, June 24.