Taking a COVID-19 vaccine could get you free tickets to Six Flags, a ride on The Talladega Superspeedway, or a chance to win a $1 million lottery.
Some states have initiated COVID-19 vaccine incentive programs to combat apathy among those who have yet to get the vaccine. Depending on where you live, you may register for several freebies that are federally and privately funded.
This is not the first time incentives have been used in the public health sphere.
Brittany Roy, program director of public health for the National Governors Association, believes that COVID-19 has hit a whole new scale for incentives. In an email, Roy said, "There have been incentives to reduce smoking or obesity and community-based organizations offering cash-incentive payments and gift cards to incentivize participation in research projects."
However, COVID-19 has forced the government to develop new and innovative incentives for this public health challenge. Some states began their incentive programs in May; others are rolling out new plans this month.
Incentive programs vary from state to state, as do vaccination rates. Some states—with and without incentive programs—are struggling to get 50% of their population fully vaccinated while others have already exceeded 80 percent.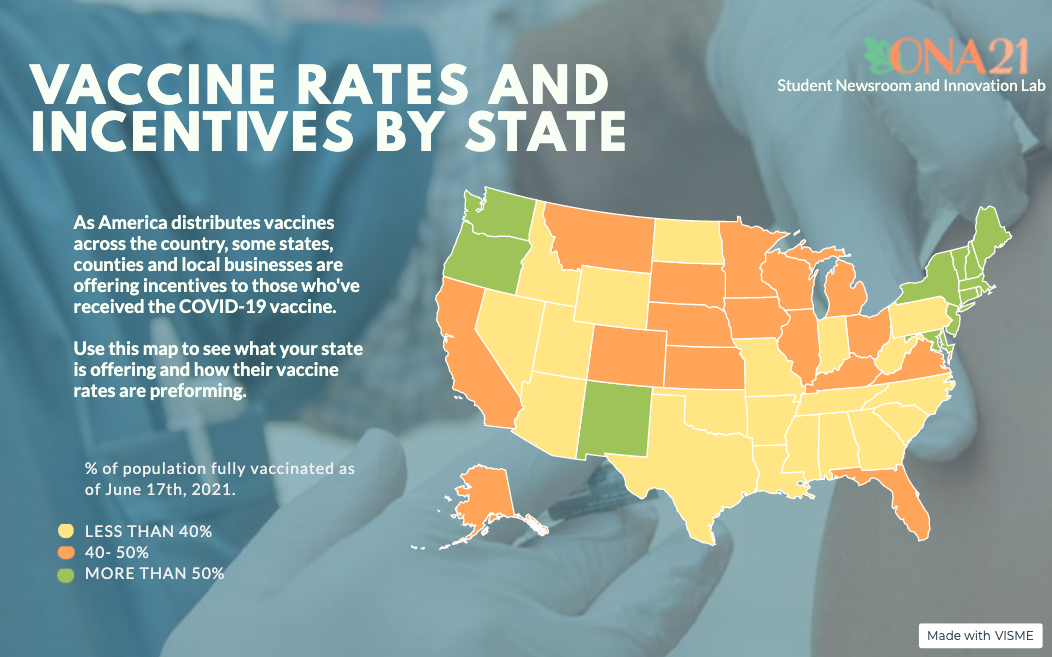 California currently has a $116.5 million vaccine incentive program, the most extensive incentive program in the country. Californians who are partially vaccinated, ages 12 and up, are automatically eligible for a cash prize drawing this month. When California announced its program on May 27, 42.2% of its population was fully vaccinated. As of June 17, that number has increased to 47.5%. That's approximately 2.1 million people additional people who received the vaccine since the program was announced.
"Governors have mentioned that some of these COVID-19 vaccination incentives have helped to drive vaccine uptake, particularly in rural areas," said Roy.
In California the vaccine incentive program seems to be working, but not every state can offer cash incentives.
In Texas, state law prohibits using monetary inducement to encourage people to get the vaccine. Texas Gov. Greg Abbott appeared live on Dallas-Fort Worth's NBC 5 on June 7 and said "We believe that everyone has the right to make their own decision to get a vaccine or not get a vaccine."
Since late May, the vaccination rates in Texas have increased at the same rate as in California. Although their vaccine rates are lower, Texas has no plans for cash incentives.
While Texas does not have plans for a cash incentive program state wide, Dallas County is considering cash incentives. The problem is that Texas law prohibits local government from gifting gifts of more than $25. In an interview, Dallas County Judge Clay Jenkins expressed his concerns with the law. The county is working with legal advisors to see what other incentives it can legally offer to northern Texas.
According to Roy, states without incentive programs "are focusing on equity, access, communications, rural and under-resourced communities."
In Killeen, Texas, CC Stinson, an independent filmmaker, volunteered with her church to distribute the vaccine. In one weekend, she and other volunteers helped vaccinate over 500 Texans. With the help of AdventHealth, they had 80% of those with their first dose come back for their second.
Families at the vaccination site told Stinson how comfortable they felt receiving the vaccine and information about it from someone in their community.
The incentives and outreach efforts are part of the nationwide push to improve vaccination rates.
In early June, President Biden announced June as the "National Month of Action" to mobilize an effort to get 70% of U.S. adults at least one shot by July 4th. CDC vaccine rates show that as of June 15, 52.8% of Americans have received at least one dose of the COVID-19 vaccine.