Despite the challenges of COVID-19 and the political pressures of last year, news start-ups from New York to Pittsburgh to Silicon Valley found opportunity for change.
Editors from the news sites Epicenter-NYC, PublicSource and Repustar said they moved through the year by embracing experimentation and collaboration.
"We have to continue to innovate," said Halle Stockton, managing editor of Pittsburgh-based PublicSource. "Even when it's very hard and this is something new to us."

Epicenter-NYC, based in the New York City borough of Queens, was co-founded during the pandemic as a way of connecting and helping neighbors by S. Mitra Kalita. The former senior vice president of news, opinion and programming at CNN Digital said what started organically as an email newsletter has grown into a website, podcast, live streams, text messages and a Google Drive open to readers.
During the pandemic, Epicenter-NYC helped thousands of New Yorkers sign up to get vaccinated with the help of hundreds of volunteers. The site did this by interacting directly with its audience to gather information, according to Kalita. What began as a Google Form evolved to accommodate the community's unique needs, Kalita said, by adding additional languages, and expanding to include immigration documentation issues and information for restaurant workers.
By working so directly with the community, "the rules of who's a journalist and who's in your company have also kind of been redefined by us," Kalita said.
Epicenter-NYC is a for-profit "community journalism initiative" whose revenue is created from a mix of local advertising, donations/grants and a recently unveiled three-tier membership model, Kalita said. Appreciation for this community-oriented coverage showed in the site's "tip jar," which received a donation bump when they started helping with vaccines, Kalita said.
The newsroom's vaccine work and coverage also gave them a unique ability to have an ear to the ground and hold institutions accountable, Kalita said, noting that New York City Council Member Mark Levine once mistook them from a mutual aid group. Epicenter-NYC did this, she said, by prioritizing customer service, being conscious of the way they are talking to the community, and innovating by creating usable content.
"Our instinct was to figure out 'who's the core community around this? How can we help them? What do we learn along the way?' Kalita said. "And then I would zoom out and write articles about that, but it was much more informed than if I was entering that situation for the sole purpose of extracting a piece of journalism that is in written or video form."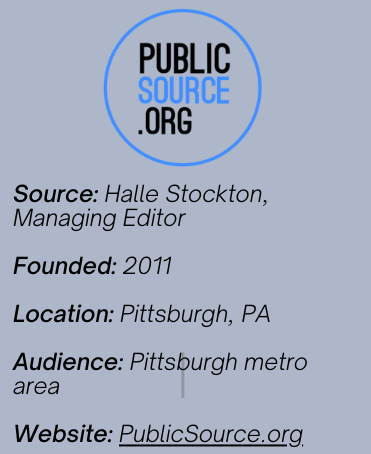 PublicSource is a newsroom that embraces change, managing editor Halle Stockton said. Like many other news organizations, the pandemic pushed them to redefine what and how they would cover their community
"We don't stick with just the same things. We're always willing to learn, eager to learn," Stockton said. "We're always experimenting, and sometimes that can be really difficult because change is hard and especially when you're talking, when there's already so much change in your external world."
To start, the newsroom ramped up daily COVID-19 coverage and later moved to a COVID-19 dashboard that is updated weekly, Stockton said. Not wanting to become the "pandemic PublicSource," she said the newsroom launched its first-ever podcast and created multimedia projects with innovative designs that focused on non-pandemic issues like political promises made after George Floyd's murder and higher education.
In 2020, PublicSource benefited from partnerships, Stockton said, and collaborated with journalists from Report for America, Open Campus and the American Council of Learned Societies. They also began partnering with other news outlets in the region to republish each other's work, which Stockton said creates a richer product in the end.
As for revenue, the non-profit receives support from major donors, foundations and members. In 2021, they have retained nearly 50% of their COVID-19 membership bump, Stockton said.
"There's news out recently that a lot of people don't feel that connection or that need for local news, even though they know on some level that's important," Stockton said. "But if they are connected to our team and … like the work they're doing is for them, we feel that there is more of a possibility that they would want to rely on PublicSource for understanding the issues and problems that they encounter in their lives."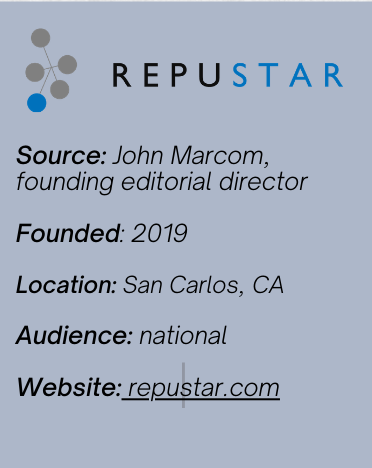 Silicon Valley-based Repustar was founded by Chandran Sankaran in 2019, with a mission to create a better fact-checking platform. John Marcom, the founding editorial director, said Repustar wants to figure out a better way to distribute and insert relevant facts when issues are debated.
The company believes it "can create a better kind of clearinghouse kind of mechanism for fact-checks and addressing confused information or misinformation," Marcom said. "Or just information, that would be a benefit to a lot of users and to the news industry."

The news-adjacent start-up spent the pandemic experimenting with fact-checking distribution platforms. In March, Marcom said, the start-up pivoted from what they thought would be a year of fact-checking election news to COVID-19. For three months after, Marcom said they explored users' questions related to the virus and created hundreds of prototype fact-checks.
"There's still a strong flow of queries coming in…" Marcom said. "Confusion about vaccines in particular, but also about there's a continuing debate about what was the best policy solution."

In this period, Repustar, which started with an app, moved to working on The Gigafact Project which employs freelance journalists to fact-check users' questions and launched its fact-checking Twitter bot, @FactSparrow. They also moved from calling their fact-checks reviews to fact briefs, Marcom said.
"The idea of making it really simple to just tag us and get something addressed is I think much more appealing than having to open another app and come up with a well-formulated question," Marcom said.
Currently, Repustar has not decided on a revenue model but Marcom said it has received adequate funding. However, he did not specify the source of that money.
This arrangement has fortunately given the company freedom to experiment, Marcom said. This year the news start-up hopes to grow its list of fact-checking partners, Marcom said, which includes the AP, The Nevada Independent and others.
"Our platform … can help lots of these organizations acquire audiences and build their own kind of reputation and trust in the way that we're working," Marcom said.