In the spring of 2020, just in time for the pandemic, the Longmont Leader launched in Northern Colorado to serve a growing city with shrinking news coverage.
The Longmont Leader is part of the Compass Experiment, a local news laboratory founded by McClatchy and Google to explore new sustainable business models. Former ONA President Mandy Jenkins was the experiment's general manager. The for-profit newsroom, launched at a time the INN Index said was a "springboard moment" for non-profit newsrooms to get started.
"Maybe this is something they were already thinking, but there were definitely new players that emerged or at least people who maybe were doing something on the side and then started to do it more full-time during the pandemic," Jenkins said.
Growth was a long time coming but the COVID-19 pandemic acted as an accelerant, said Chris Krewson, executive director of LION Publishers, an organization that provides support to news start-ups. Last year, Krewson said LION had 160 applications for 24 spots in their Google News Initiative Startups Bootcamp. They also saw start-up growth in their collaboration Project Oasis, which tracks the growing number of locally-focused digital news publications in the U.S. and Canada.
"There were fifty of them last year and fifty every year for the last five years," Krewson said. "So, we've seen incredible growth in this sector."
Damon Kiesow, Knight Chair in Digital Editing and Producing at the University of Missouri School of Journalism, said the number of start-ups launched in 2020 was within the average of startups launched each year.
According, to the INN Index 2020 report, 20 nonprofit newsrooms launched in 2020, 23 in 2019 and 24 in 2018, making the pandemic year a relatively average year for nonprofit launches.
"I think it's fairly well within the average, but the fact that it was during a pandemic and a recession, I think means that it's probably more impressive, like 20, this last year was probably more impressive than 22 the year before, right?" Kiesow said.
Kiesow said several factors impact the stats. For example, some newsrooms are not captured in the report because it is based only on non-profits created and listed on the INN index. He also said that many of the startups were already underway or planning to launch before the pandemic, like The 19th and The Markup.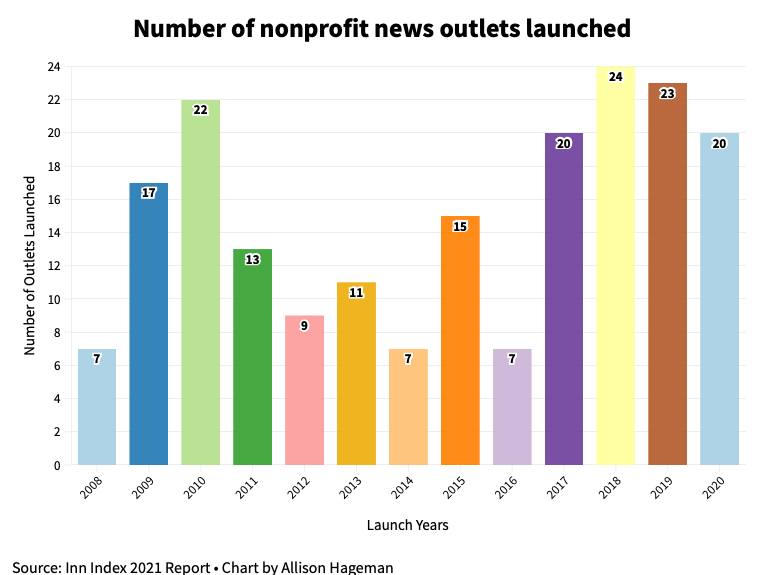 Still, there is a general excitement growing for the future of news startup's growth, nonprofit or otherwise.
Krewson said he is excited to see newsrooms embrace industry disruption and to follow a path of launching start-ups that LION Publishers laid out two years ago. Krewson is on the board of The Tiny News Collective which hopes to launch ten newsrooms this year, 100 the next year and 500 by 2023.
"We need a more systemic, field-wide look at how do we encourage and give some thought to all the stuff that's happening," Krewson said. "It's happening organically, it's happening anyway, but how could we be more intentional about it? How could we make it less complicated, less expensive, easier, cheaper, to do these things?"
Millions of dollars are now flowing into the sector, Krewson said, where organizations like LION Publishers, Google News Initiative, Facebook and Substack are providing the expertise and means to innovate.
Jenkins agrees with Krewson that support for news start-ups is growing. She says there is opportunity and excitement in the surge of newsrooms creating low-cost newsletters and low-effort websites. She's also encouraged by groups trying to help news start-ups acquire software and get access to better tools at cheaper prices, citing organizations like The Tiny News Collective or NewsCrack, where she does freelance work.
"I think there's a lot more tools and kind of groups subsidizing this, or at least putting together the right tool groups for people who really want to get started on this. And I think that's one of the most exciting things going on right now, is more people wanting to start something out of need or necessity," Jenkins said.
Most news start-ups begin as a response to a community need, then later figure out how to subsidize their journalistic effort, Kiesow said. This is especially the case in the nonprofit space, which is more open to experimentation and getting more visibility than it had a decade ago.
"I think the difference in 2020 leading to 2021 is that there's been a huge shift in the center of gravity in terms of the number of non-profit newsrooms and the number of successful nonprofit newsrooms, who are doing really interesting things that are now visible enough to the national scale," Kiesow said.
Based on her experience with the Compass Experiment in Colorado and Ohio, Jenkins said people are realizing that they need local news. She said. that smaller newsrooms are the future when it comes to serving a community's needs.
"I'm not going to say easier. It's not easy. But there's more tools and aid, and really advice available than there ever has been for those who want to go in to do this, and to find a community to help," Jenkins said.