Science journalist Siri Carpenter is the 2023 ONA Community Award winner for her work with the nonprofit The Open Notebook. The organization focuses on providing resources and training for journalists who cover science.
Since 2018, the Community Award has honored a person, team or community in online journalism that fosters an encouraging environment for journalists.
"Part of the reason that I felt so honored to get the award was just looking at who else has gotten this, and [ONA] is a very impressive organization…" Carpenter said.
Journalists who cover science play a crucial and demanding role in society. From covering infectious disease research to climate change policy, they must not only explain new advances in the field but also provide critical context and analysis to ensure freedom and integrity of the scientific community.
Mentorship outreach
The Open Notebook has published more than 500 science-based articles and has hosted several training and mentorship programs for career and financial support.
"There's a lot to learn to cover science, and it's a complex skill, but it's a learnable skill," Carpenter said. "So we wanted to create opportunities for talented, promising early career journalists to be able to develop their skills."
The Open Notebook helps support journalists by providing opportunities such as the Sharon Dunwoody Science Journalism Mentoring Program. The mentorship works to increase the voice and visibility of minority science journalists.
Carpenter added that it can be common for many early-career journalists to take unpaid or low-paying internships when first starting out.
According to a Pew Research Center study published in April 2023, only 38% of women cover science and technology.
"One of the things that have been a real challenge for our field and for all of journalism, is that there are some very high barriers to entry," said Carpenter. "For an industry that plays such a crucial role in society as journalism does, to have a situation where only those with the greatest privilege are able to access that field, it's deeply problematic."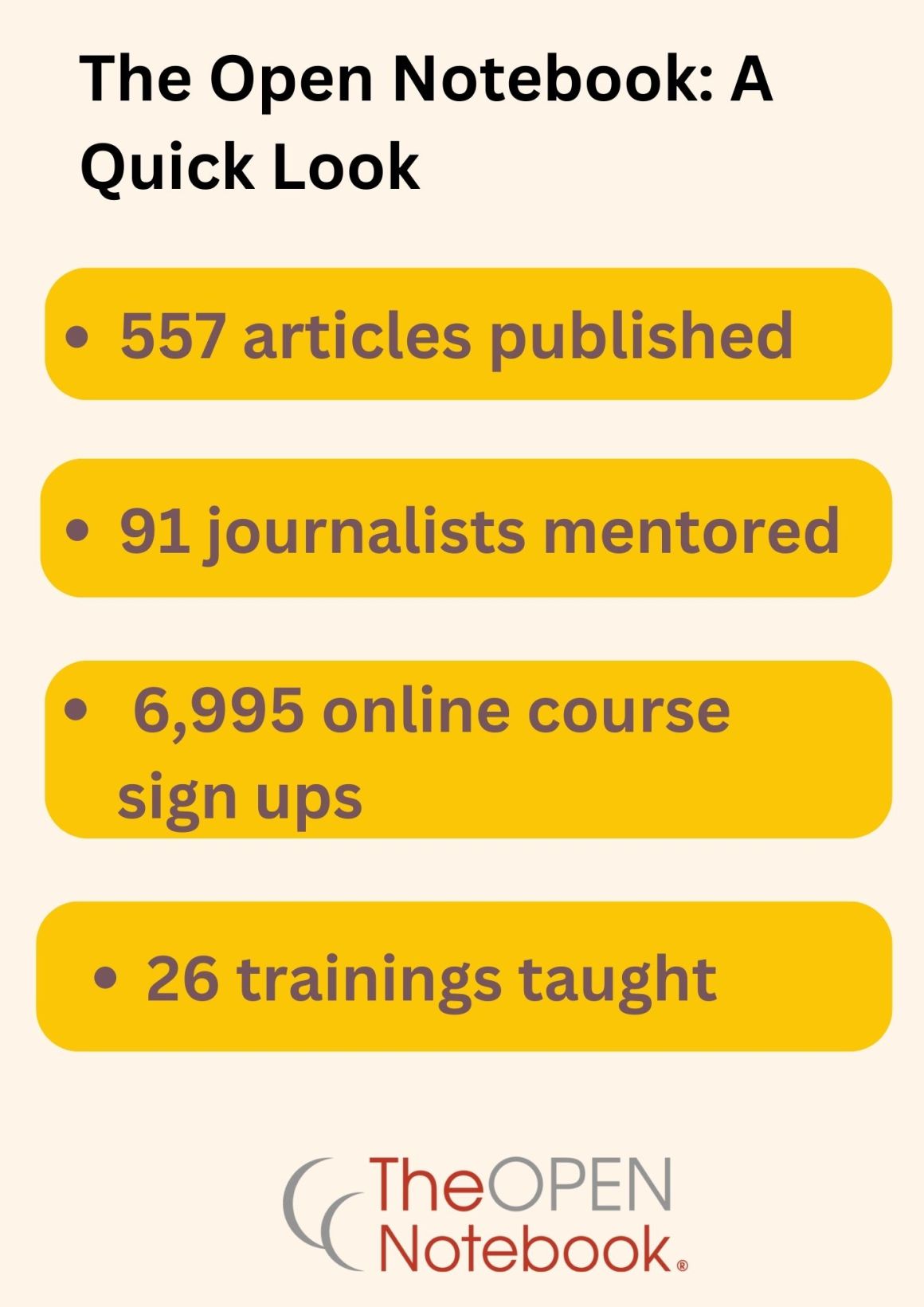 Carpenter said she always enjoyed journalism, but didn't think that she would ever pursue it as a career. During her Ph.D. studies in social psychology, Carpenter read The New York Times Science section every week in her student lounge and started planning for her work in a newsroom rather than a lab.
"I felt a bit restless about the idea of going into academia," Carpenter said. "I wasn't sure that it was for me, and the idea of spending the rest of my career in one area just didn't feel quite right for me."
After graduation, Carpenter began freelancing for The Los Angeles Times, Scientific American and Science News.
Carpenter saw the potential for helping science journalists learn from the work of others. In 2010, The Open Notebook started out as a small website featuring interviews with science reporters about their stories. It eventually evolved into a network of students and journalists from different communities – from postdoctoral students to working journalists in newsrooms – that are "all over the map" according to Carpenter.
Freelance support
The organization also provides science editing workshops on topics from copyediting to story structure, and manages a "Pitch Database" – a collection of successful pitches published in outlets from National Geographic to The Washington Post.
Carpenter said the goal of the database is to provide more transparency about the pitch process.
"In many fields, there's sort of an unwritten curriculum about how to do certain things, like how to pitch a story if you're a freelancer or how soon should you follow up on a pitch if you don't hear back," Carpenter said. "We try to demystify that unwritten curriculum in general."
With financial support from science organizations such as the American Association for the Advancement of Science and the Chan Zuckerberg Initiative, Carpenter is optimistic about the intersection of journalism and science.
"If you're coming from science and doing journalism, you have a lot to learn about how journalism works," Carpenter said. "If you're coming from journalism, and starting to cover science, you have a lot to learn about how this works…it's not rocket science, but it [science journalism] is a complex set of skills that are essential to understand in order to do it well."