Zines exist in many forms — some are folded, sewn, glued or stapled together. They can be written, drawn, printed, collaged or downloaded. Some cover community events, while others focus on themes from music to memoirs. They all serve as a community archive, holding knowledge and honoring stories.
Zines are independent, small-scale publications created in many DIY ways and then reproduced. They're full of stories, poetry, recipes, doodles, callouts, resource guides and more. Zines also have a long history of community building, art and resistance, particularly for marginalized folks and those not often centered in traditional storytelling and journalism.
Amara Aguilar, a journalism professor at the University of Southern California, and Sarah Bennett, a communications and media studies professor at Santa Ana College, recognize the need for zines and pushed to keep zine-making alive at the "Table Talks: Zine Making" session at the Online News Association conference in Los Angeles on Sept. 23.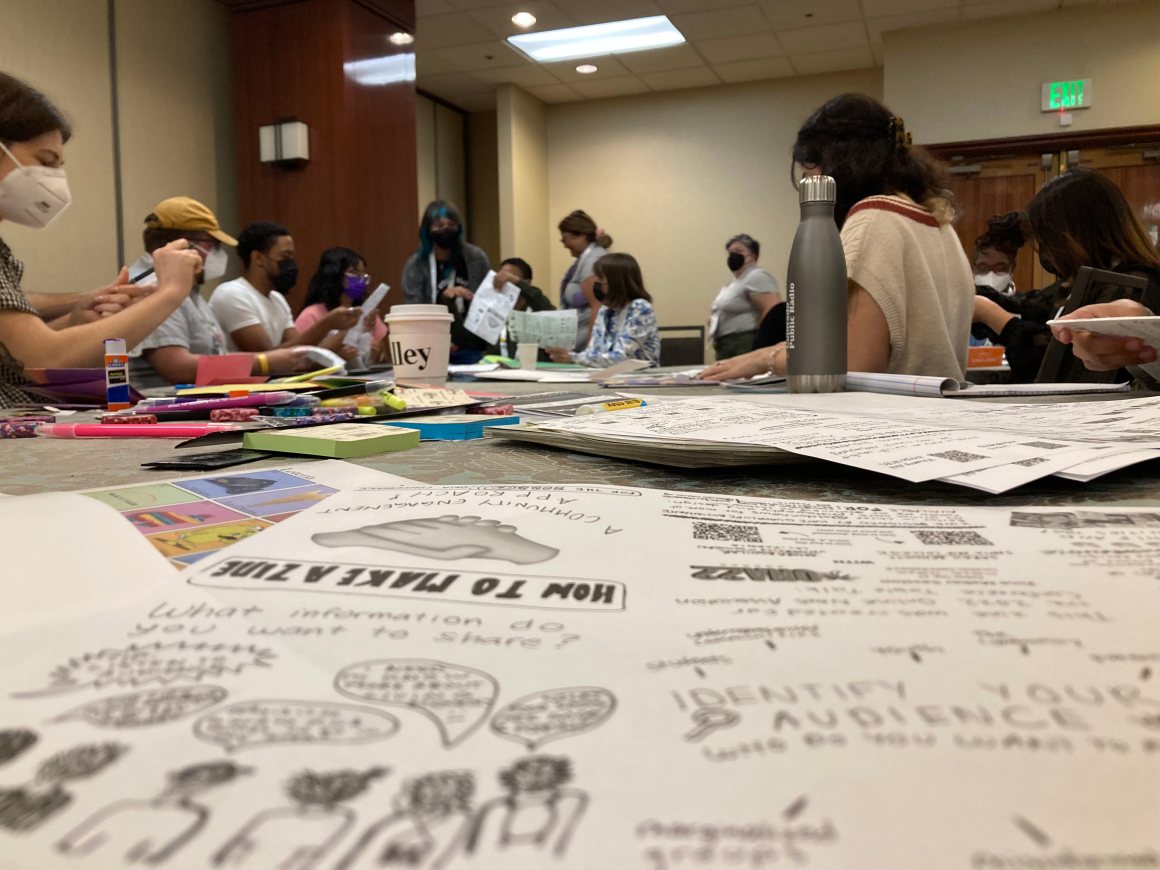 The tables were covered in zines complete with pages on distribution options, how to choose the right size and form folding tips and the importance of supporting local printers.
There were also zines about edible mushrooms in Minnesota, mental health, the best food in Austin and becoming a plant parent.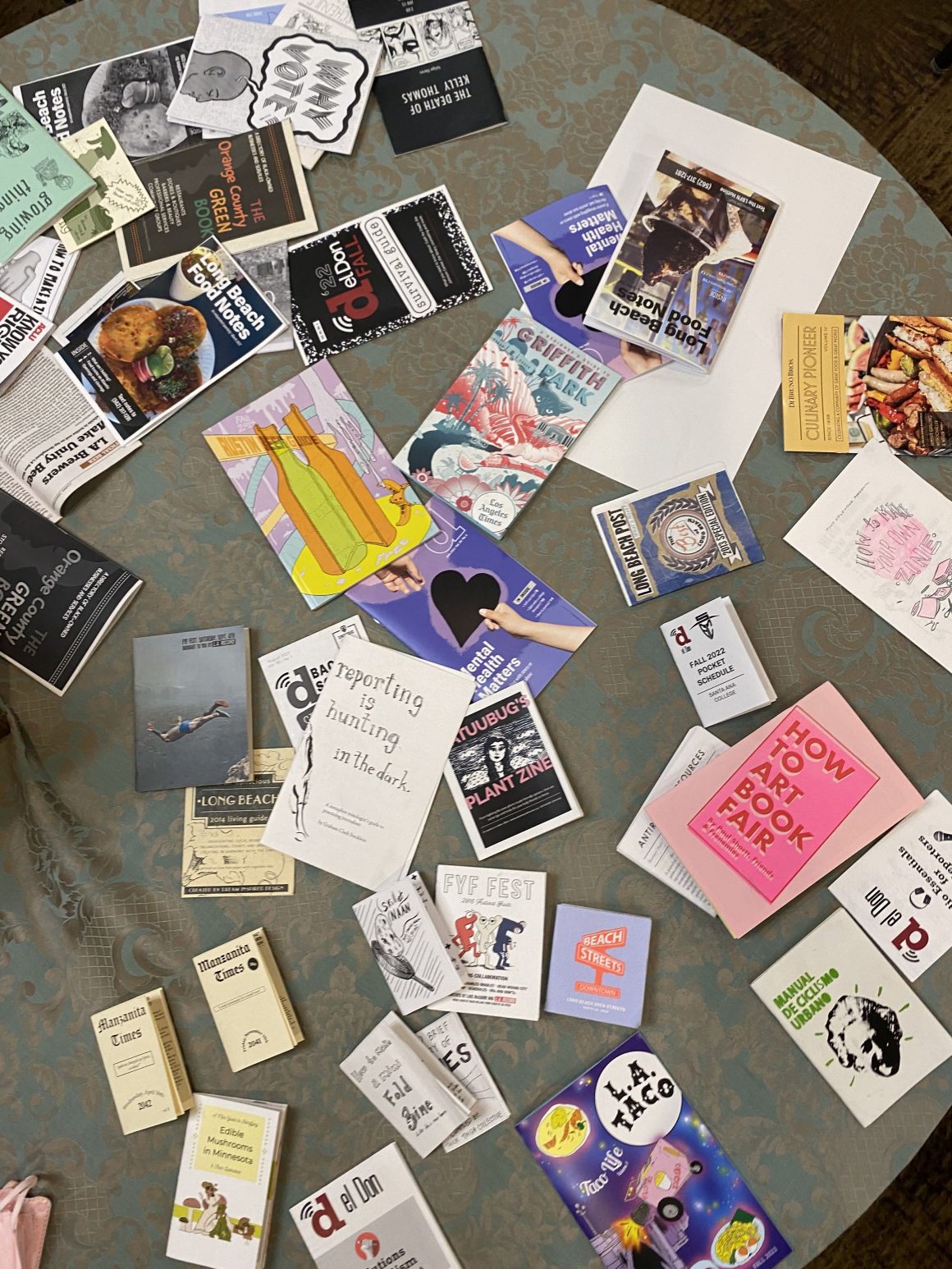 Aguilar, who worked with her students to create zines with L.A. TACO last year, appreciates the accessibility that zines offer.
"Zines focus on making information accessible to people," she said. "They cut a lot of barriers to publishing for many members of the community because you can draw your own zine, you can copy your own zine, you can even distribute your own zine, in many cases."
Zines also serve as tools to connect community members.
"Creating community with zines is really important," Aguilar said. "They're just a really great creative way to engage our community. Look at this session — we got people together and created content together."
Aguilar and Bennett urged attendees to create zines of their own, about their beat or community, resulting in several carefully folded pamphlets about student newsrooms, the need for more sex positivity in South Asian culture, gender identity, ways to combat misinformation in journalism and support journalists of color.
Bennett, who has self-published several zines on a variety of topics, from poetry to her family stories, believes that traditional journalism can learn a lot from zines.
"There are trust and accessibility issues in journalism," she said. "How are we supposed to inform people if our newspapers are big and clunky and behind a paywall? But with print and zines, it's little personal, relevant nuggets of information that people can understand and digest quickly and easily."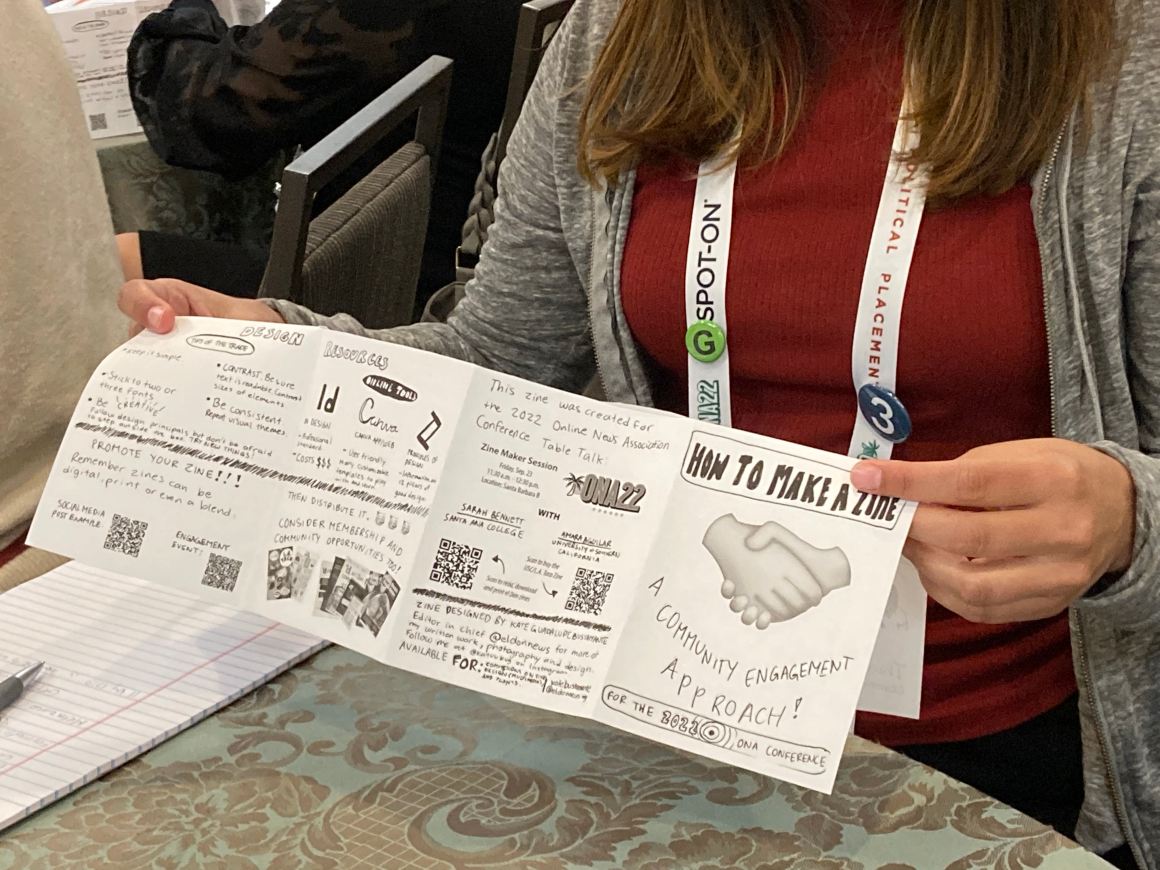 Zine-making is an art that leaves expression, choice and freedom in the hands of the creators — community members can tell their own stories in their own words and have agency as they share them.
"If you want to make a zine, go for it," Bennett said. "There is magic in the imperfection aspect to them. It's not precious — just get them out now. You don't have to wait for anyone's approval. Just do it."
Here's how:
Think about the information you want to share. Listen to your community to find information gaps and community needs. Your zine can also include interactives, maps, how-tos, QR codes and tutorials
Identify your audience. What questions would they have?
Define your style. Create a vision board and think about what color schemes and details you want. Keep it simple, if you can. Stick to just two or three fonts, make sure the text is readable by utilizing contrasting colors and consistent sizes. Repeat visual themes, but don't be afraid to try new things and get creative! There are several programs you can use like InDesign, or Canva, a free alternative.
Choose the size and format. Do you want it to be stapled, folded or cut? If you want to fold a letter paper (8.5' x 11'), first fold it in half and then into quarters. If you're folding 11' x 17' paper, cut and fold it accordion style.
Research printing costs. If you can, support your local printer!
Distribute it! Consider membership and community events, too!