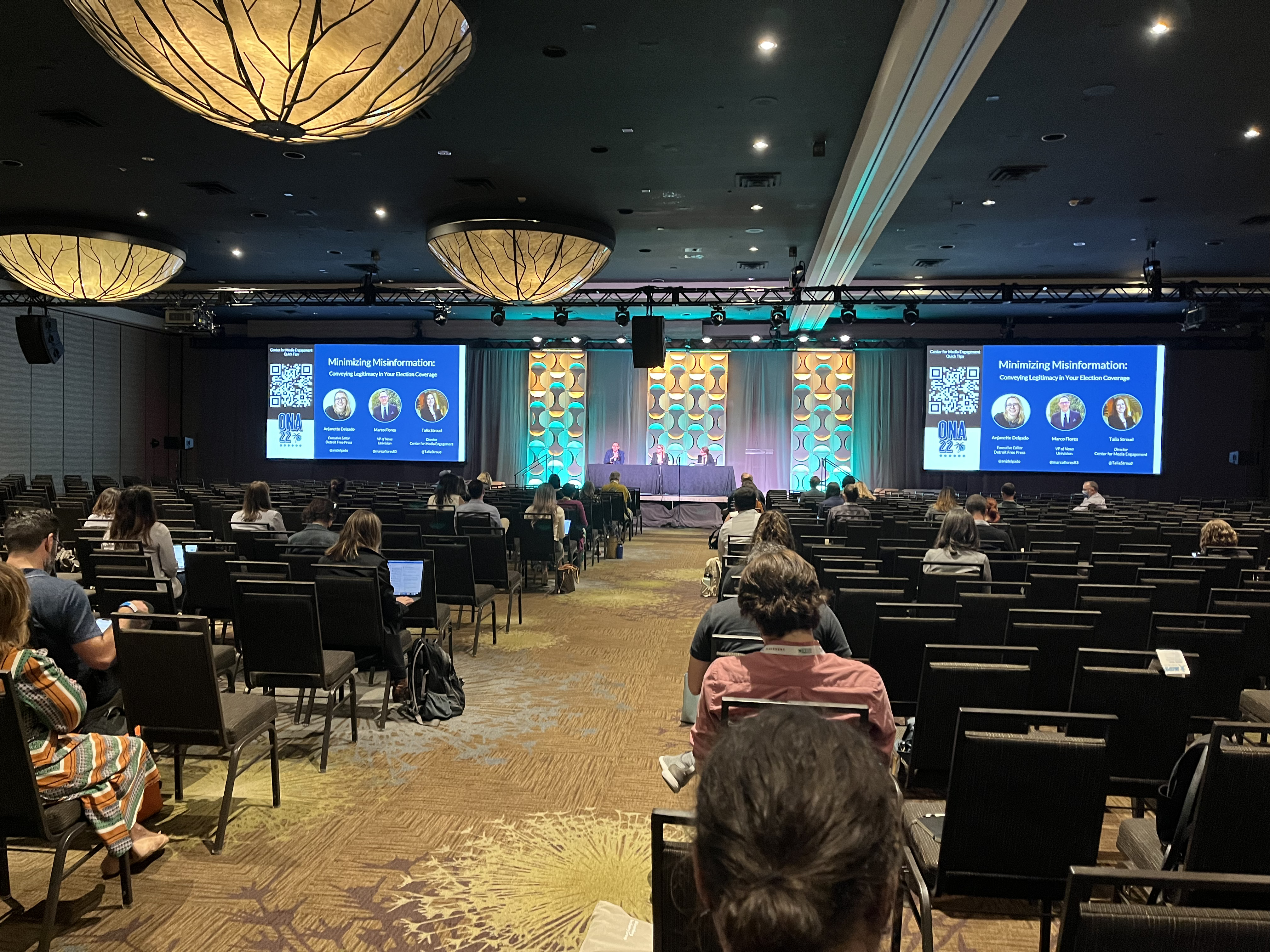 Misinformation and disinformation have plagued the news media landscape as well as digital spaces in recent years, leaving journalists searching for solutions. 
"Truth is everybody's job," Univision VP of News Marco Flores said. "Our journalistic responsibilities are of ethics and moral commitment."
The "big lie" of 2020, or the claim that Joe Biden stole the election, laid the groundwork for people to question the legitimacy of elections.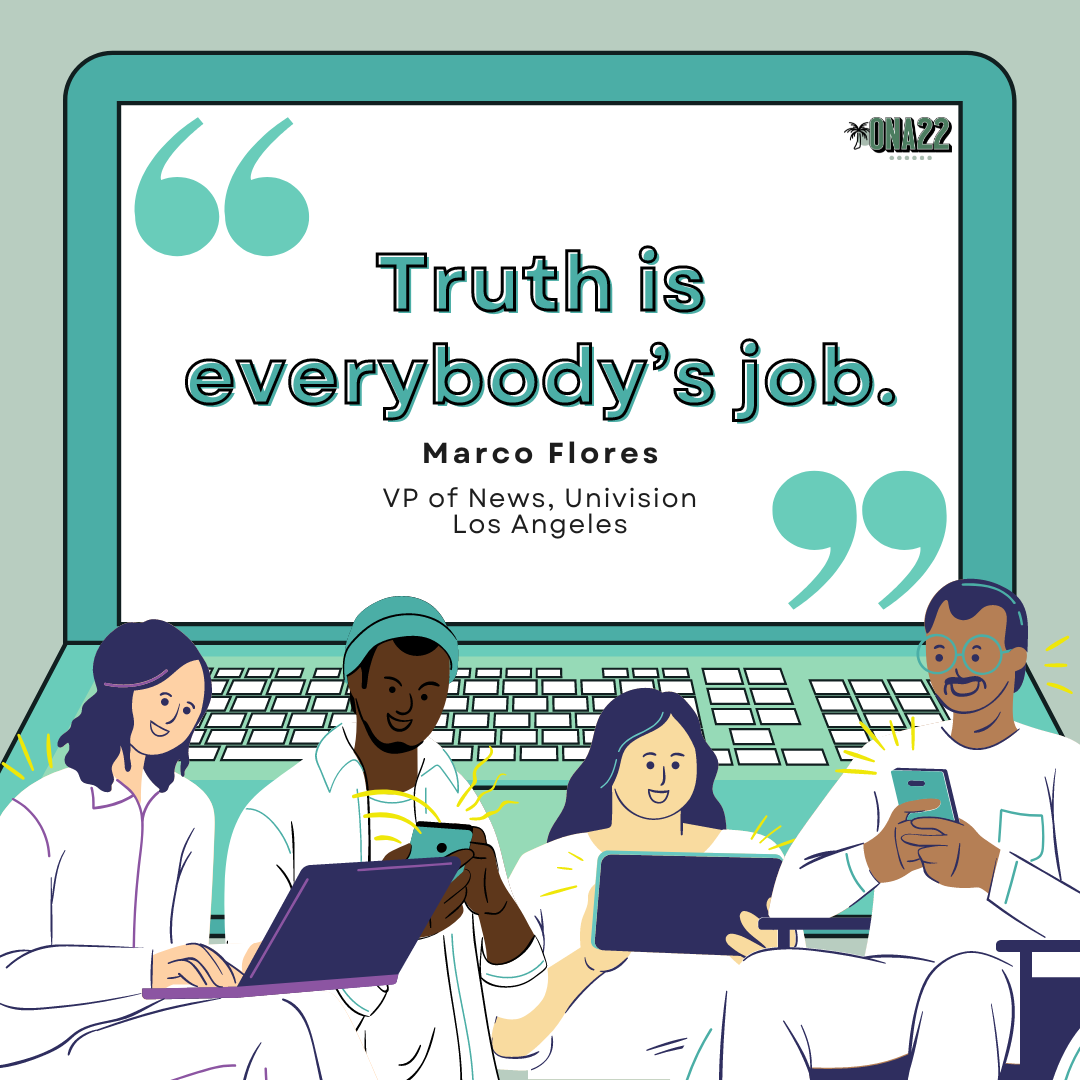 Around 70 percent of Republicans believe that Joe Biden stole the election despite reports from organizations like the Associated Press and Factcheck.org finding no evidence of widespread voter fraud.
Anjanette Delgado, executive editor at the Detroit Free Press, saw the spread of voter-related misinformation. One such example was the use of Sharpies to shade the ballot.
"They popped up in previous elections, but we weren't expecting them to pop up [now]," Delgado said. "And I think that's one of the things we're taking into the race this time around—to be prepared."
Delgado suggested that newsrooms get ahead of the curve by reaching out to election officials in order to build out networks prior to the elections.
From the Latino perspective, Flores said it was the newsroom's responsibility to educate voters and inform them of their rights. He also noted that with 33.9% of naturalized citizens in the U.S. of Latino descent, the lack of Spanish-speaking public officials who are able to respond to election-related questions from all voters is part of their mission.
"That speaks directly to our social responsibility at Univision—to be really involved in the electoral process from the get-go," Flores said.
For misinformation specific to BIPOC communities, BIPOC-owned outlets have taken the initiative to address it.
"Communities of color, in particular, are being bombarded with misinformation and disinformation. I use those two terms distinctively because some people pass along information they don't know that is not factual," Pivot Fund CEO Tracie Powell said.
Powell said others deliberately and intentionally target communities with disinformation in order to affect the change they want.
According to Powell, a common example of disinformation among these communities involves political candidates, particularly women candidates.
"They spread disinformation about the work [the candidates] have done or about their personal lives," Powell said.
Smear campaigns against communities were another example. Powell said some of the Pivot Fund's own grantee partners have had their own Facebook pages or accounts suspended because of false information.
Luella Brien, founder and editor-in-chief at Four Points Media, said indigenous news outlets played a big role in debunking misinformation about health and environmental issues.
"As a watchdog for our small community—on the Crow Indian Reservation, in my specific case—it's our job to combat inaccuracy [and] disinformation because no one else is doing it," Brien said.
Despite the fact that Crow Indian Reservation had higher infection and mortality rates than the Navajo Nation, Brien observed that people only based their COVID-19 statistics, specifically with Native Americans, solely on the Navajo Nation.
"At the time, I was working at the corporate paper, and we would have two full pages of obituaries," Brien said.
Social media was another avenue newsrooms felt ought to be addressed when it came to misinformation.
"People of color are overrepresented on social media platforms. [They're] a breeding ground for disinformation and misinformation," Powell said. "That's why we invest in news outlets that have social media-based news organizations."
The Pivot Fund invests in news outlets that are trusted in their communities and are known for providing reliable, fact-based information.
"We invest in them so that they can stabilize, create sustainability and increase their influence so they can do more of the work that they're already doing," Powell said.
Delgado expressed concern about journalists entering potentially hostile digital spaces to scope out mis- and disinformation.
For platforms like Parler and other incendiary groups and mailing lists, the challenge lies with being there to listen and not to take action unnecessarily.
Being in some of these spaces required bravery, especially if a journalist is a woman or someone not well-versed with online safe spaces, Delgado said.
Flores talked about Univision's fact-checking group, El Detector, and its efforts to curb misinformation on Facebook and WhatsApp. These platforms are two of the most common channels used by the Latino community, specifically to amplify misinformation.
According to Flores, some of the misinformation came not from the U.S., but from "back home."
When a big surge of immigrants came from Central America, the immigrants believed the U.S. borders were open because of WhatsApp messages.
"That's how you saw thousands and thousands of people leaving their country because they were under the impression that the U.S. was welcoming them to the country," Flores said.
Overall, the speakers emphasized trust and empowerment as essential factors in combating misinformation. Delgado and Flores detailed the importance of giving audiences the tools to research for themselves 
"As journalists, we are not only tasked with finding the truth, but we have to show transparency has to be how we find the truth because that's what the viewer—the user—wants to see in order to build trust," Flores said.